Introduction

Affiliates are raking in huge commissions on Clickbank and you can too. Our Interview with a handful of them has shown that by focusing on high converting and evergreen products at the marketplace, you would be successful in the long term. By the way, we researched these products using the CB engine website. The CB engine is such an excellent resource for affiliate marketers. Signup for free and consider the paid subscription when you start making some serious money from Clickbank.
Product Research Pays! Select digital offers that comes with good gravity and sales conversions.
[Also get the meaning of Affiliate marketing in simple terms]
Top 8 ClickBank Products to Promote in 2021.
We delve in to bring you high potential products on Clickbank that are relatively undiscovered by most affiliates. Are you ready to make some money with ClickBank before the close of 2021? Then keep reading as we have just the correct information for you. ClickBank is a free marketplace to start promoting digital offers to make money. If you dont have a ClickBank account, kindly signup here.
Today's article shows you the top eight Clickbank products to make you money in 2021. This article focuses not on providing you the top eight most popular products on the ClickBank marketplace. Instead, we are giving you a sneak peek into the eight undiscovered offers on the ClickBank website that most affiliates are not paying attention to currently. Happily, these are the products you could lay your hands on early and focus your advertising efforts for maximum commissions.
We want to share our experience in affiliate marketing with you, so if you've not subscribed to our newsletter, please click subscribe button for my regular affiliate series on this topic.
Let's talk about the top eight products you can promote on ClickBank to make money in 2021.
First of all, these are not products that will come up first when you search the Clickbank marketplace. These are not the top-ranked products because they are the ones that most affiliates are likely not promoting at the moment. You stand a great chance to get in early while you target your promotional efforts effectively at this early stage. You could practice stealth promotions and make some early conversions to boost your commissions.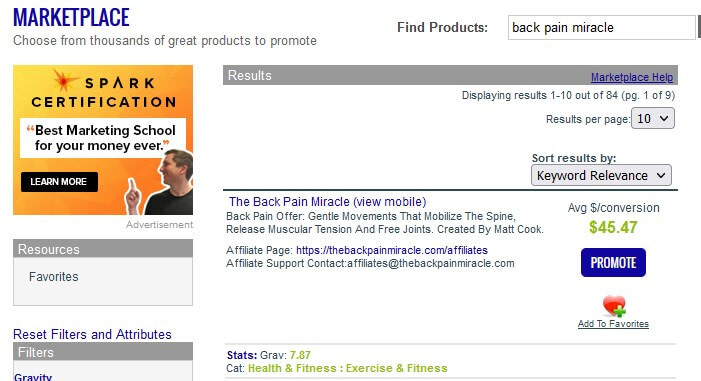 So right away, we move on to the first one, which is our number eight. We'll go through some insightful graphs to visualize the product's current performance on the Clickbank marketplace. The number eight is called Back Pain Miracle. Now Back Pain Miracle has gained an average gravity score of 3.72 and commission of $57.
It was added to the Clickbank marketplace on April 9, and in just a little over two months now, it has got a gravity of 3.72. However, with a gravity of 3.72, it's an indication that it sells. Most likely, the majority of affiliates haven't discovered it yet. We've looked at the gravity from the CB engine, and its graph is a straight line which is a good sign. If you were to actively send traffic to this sales page, you would likely make enough sales to profit from. To do that, look at the video and consider the kind of catchy headline to put on your capture page. The product is quite promising as it seeks to fix back pain problems that are common today. We have the feeling that this would perform well in the medium to long term, leading us to predict a gravity of about 20 or 30 in the next 6 months. Therefore, the early affiliates focusing on this product may stand a chance to do exceptionally well by marketing Back Pain Miracle.
Serenity Prime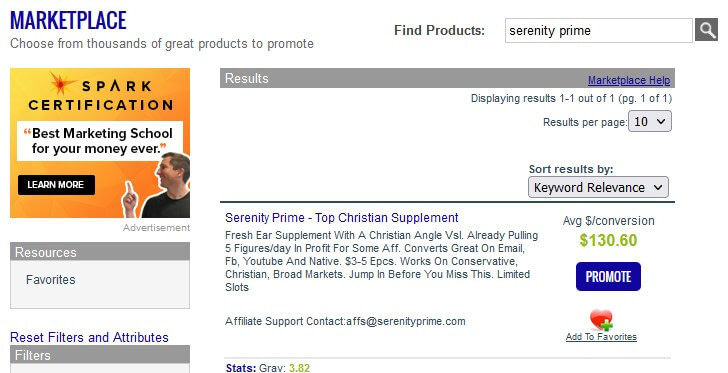 Clickbank Product Number Seven is Serenity Prime. Serenity Prime is a product that claims remedy to Tinnitus. We think it will sell pretty well because of its uniqueness in providing natural relief for Tinnitus, a hearing disease. Many people are troubled by Tinnitus and are actively looking for effective natural remedies that are affordable. According to CB engine, the vendor is SM Prime, and the gravity is already 4.65, and it's only been on the marketplace since May 31. So it's only a week old on the Clickbank platform, and the average commission is $164, which is definitely a good sign that it has the potential for insane conversions. We will give it a try today to see how well it would perform in the high-paying health niche.
Interestingly, we have come to like the other Tinnitus offers in the marketplace. In addition, the vendor seems to be one of the top sellers in the health niche. Given these reasons, our prediction points to an average gravity of 60 to 70 by the end of this year. However, we noticed that the actual gravity figures would be slightly higher than what we've provided since CB engine data is not instantly updated, unlike that of ClickBank's gravity scores.
[Are you a blogger? or you want to start a blogging to make money in 2021? See how you make money blogging your with affiliate digital offers]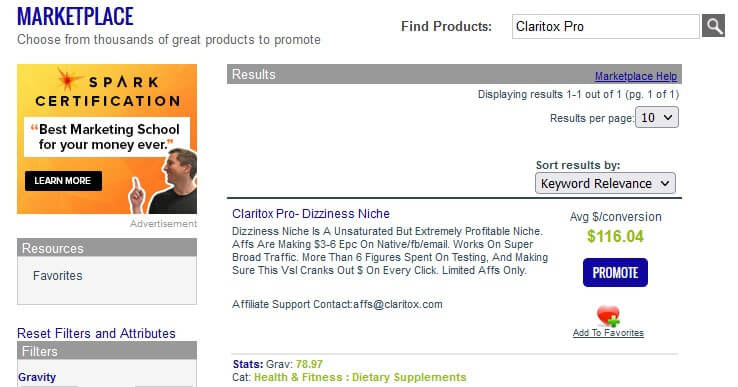 Product number Six is Claritox Pro. Claritox pro is related to vertigo and has only been on the Clickbank offers website about 2 weeks ago. It has already gained a gravity score of 12.53 with an average payout of 136 dollars. It comes with a catchy and engaging headline to hold the attention of relief seekers. We think it is worth the promotional efforts to market Claritox pro for extra commissions. Even though we are yet to know how big the vertigo market is, we will gladly predict a gravity score of about 60.
Insulex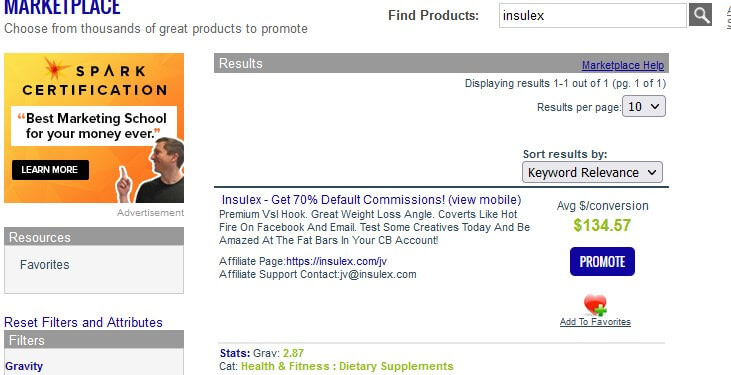 Product number Five is Insulex which seems to be a relatively cheaper offer. Even though its price appears to be on the lower side, our experience tells us that offers with cheap-looking product sales pages sometimes perform exceptionally well in online marketing and, more significantly, on ClickBank. Well, the gravity is only 1.6 at the moment, and it's been on the ClickBank platform since April 24. So why are we recommending this offer? We suggesting you promote this product because we perceive its enormous sales potential. The sales page looks quite engaging, and the affiliate tools provided by the vendor affiliate tools are also extensive and well resourced. Though currently, it's not excellent with the gravity score since Insulex appeals to a broader audience, we would not be surprised if the score of the gravity climbs to 70. Kindly prove us wrong at the end of 2021.
Restolin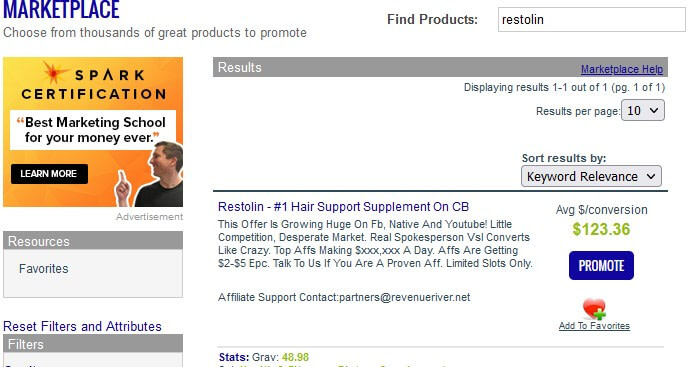 Product number four on the list is called Reston. Reston claims to fight hair loss, and the target audience is people looking for natural hair loss solutions. Alopecia is now commonplace, and both men and women alike suffer from it. It also has an engaging headline that presents you with a catchy video to hold viewers' attention. At the moment, it has garnered a gravity score of 17. The score is impressive for a product that has been on the marketplace since May 14, 2021. In addition, the average affiliate payout is $130, which is pretty lucrative. Having said that, we fix our gravity score prediction at 80 by the end of this year.
Flexobliss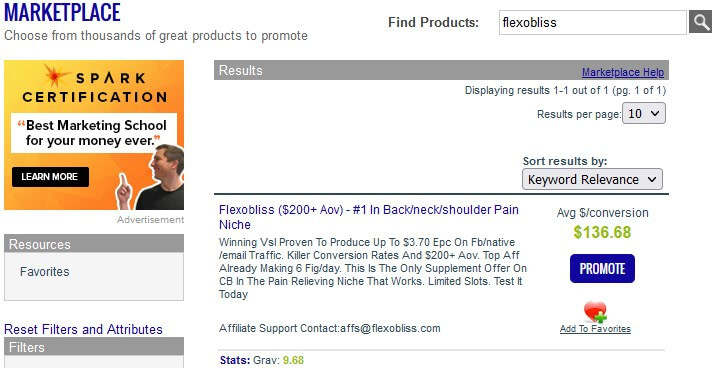 We narrow it down to product number three, known as Flexo bliss. Flexo bliss deals with back pain, and it has the potential to convert depending on the quality of your traffic. Flexo bliss is the vendor id with the current gravity score of 10 even though it's just barely 2 weeks old in the marketplace. The affiliate payout averages a whopping $160 making it very lucrative. Given that, many people are suffering from back pain and muscular aches. This product may have a unique appeal to Teachers and Commercial Drivers, and other targeted audiences due to the nature of their jobs. We are particularly bullish on this offer since its marketability is very high. Because of this, we propose a gravity score of about 80 for Flexo Bliss by the end of this year.
Steel Bite Pro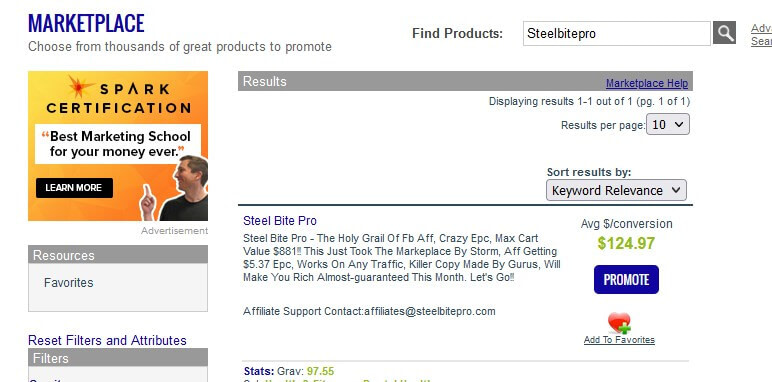 Product number two is Steel Bite Pro. Steel Bite pro has an official website steelbitepro.com, and the average gravity score is 97, which is superb. The supplement gained momentum a few months ago, and it's doing well in the marketplace. It was listed on ClickBank marketplace in July 2020 and has so far taken the market by storm. According to the official website, it claims to offer gum protection and improve overall dental health. It's has a specified target audience in the dental and oral health niche. Given the expensive dental treatments and the growing number of oral health especially teeth and gum issues, we are sufficiently convinced this product will sell well. We, therefore, predict a gravity score of at least 190 by the end of 2021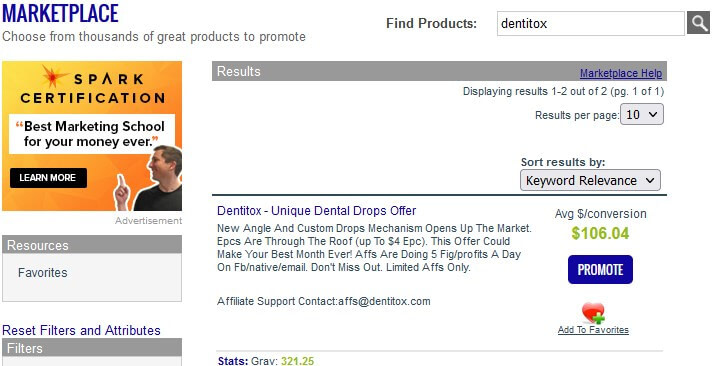 At this moment, it's long overdue for us to announce the number one Clickbank product, and the name is Dentitox. Dentitox, very similar to Steel Bite Pro, has an average gravity of 72.43. Considering this has been less than a month, it garnered a massive gravity of 321. We can only say that it's a product that is going extremely well to outperform popular products in the marketplace. We are already promoting Dentitox, and it's gaining a pretty good amount of impressions and few conversions with no refunds.
The offer already has an engaging headline and fantastic affiliate support, and promotional materials. We will not hesitate to predict that the gravity will be about 180 or more by the end of this year. The main reason we recommend dentitox is because of its selling potential in the dental health micro-niche. For the long term, it stands a good chance of outperforming SteelBitePro in the marketplace. Comparatively, Dentitox is more sellable from an affiliate standpoint.
Conclusion
The above are the top 8 products to promote on ClickBank. The research done by digitalofers team on the hot digital offers at clickbank shows the above mentioned products are among the evergreen and lesser-known offers. You may include some of them in your affiliate campaigns for more sales and commissions. We are looking forward to your affiliate success as your due diligence makes it easier for sales maximization.
Kindly visit again for the hot digital offers to promote this month.
[Also check on how you can promote digital offers with free online marketing tools]